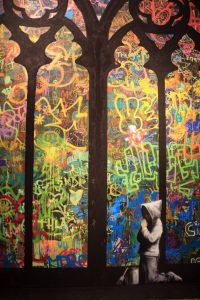 My music folk were hanging and planning some future worship when our choir director Jim asked, "So… what's like the future of the church? Where are you taking us?"
Sometimes the words just aren't there. That's why we invented art!
The picture on the left comes from the street artist Banksy. I love this picture. For me, this is the future of the church.
I love all the color and life. I love how so many tags and people's art mingle together. And then we have the classic gothic windows that our church building has. It's old and new together. It's interactive. It's vibrant. It's accessible because it's on the street.
That's what I see for us. A future that's interactive. That's accessible. That incorporates the old and the new. That's vibrant and reverent and prayerful.
That's what I see when I look at this picture. How about you? What picture would you describe the future you see? I would love to hear your comments!