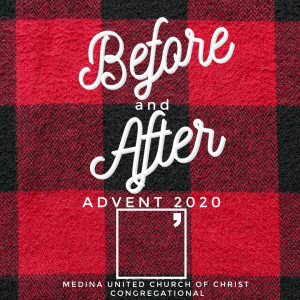 Greetings, church!
I hope this finds you healthy and at peace. This letter will take you through all the considerations for Advent 2020. Advent is going to feel a little different. Yet the important thing will stay the same: Christ has come into the world, and we have GOOD NEWS!
The song "O Little Town of Bethlehem" was written in 1868 by Phillips Brooks, a pastor in Philadelphia. He wrote it after a trip to the Holy Land and seeing the nighttime Bethlehem from the hills of Palestine. When he returned, he had his church organist, Lewis Redner, write the melody for the Sunday school choir. It's been a beloved Christmas classic ever since.
I love the lines, "Yet in thy dark streets shineth
The everlasting light.
The hopes and fears of all the years
Are met in thee tonight."
Before Jesus, people were waiting. Waiting for a word from God. Waiting to be delivered. After Jesus, everything changed.
We've never lived in a world without Jesus. We've always been in the After. This worship series will examine the universal concept of Before/After and attempt to answer the question, "How do we make sense when everything has changed?"
Here is an overview of our series:
| | | |
| --- | --- | --- |
| Date | Scriptures | Sermon Title |
| November 29 | Isaiah 65:1-9 | Before and After the Call |
| December 6 | 2 Peter 3:8-15 | Christmas Before the World Ended |
| December 13 | Mark 1:1-8 | Before I Heard the Prophet |
| December 20 | Luke 1:26-38 | Kids' Virtual Pageant |
| December 27 | Luke 2:22-40 | After Before |
| January 3 | John 1:1-18 | After Life: Saints in Light |
What is not in the chart are the Christmas Eve services. After taking the phone poll and prayerfully considering our options, we are taking the safest approach. We'll have two services on Christmas Eve. The first will be a Parking Lot Carols and Candle Lighting service at 6 p.m. We will gather in the parking lot of our church and sing our favorite Christmas hymns. I will give a prayer, and we will light our candles and sing "Silent Night." This service is weather-dependent, so keep a watch on the sky. This service will be around 30 minutes or so, and you're welcome to park in the neighboring lots as well.
We'll then head home and get warm and cozy for a live-streamed pre-recorded service at 8 p.m. on our Facebook page at www.facebook.com/UCCMedina and webpage at www.uccmedina.org/live. It will be archived on the Facebook page and www.uccmedina.org/archived if you'd like to watch it later. This service will feature a message, past choral anthems, and the traditional Scripture readings from church members, as well as a few surprises.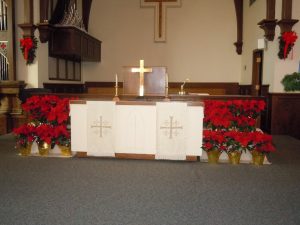 We will deck the halls of our church building as we always have! This means it is time to order your poinsettia! You may order a poinsettia to decorate the church and claim it after Christmas, or you may donate a poinsettia to be delivered by the Flower Committee to a homebound member to be enjoyed before the holiday. The cost is $8.50. Deadline for ordering is December 7.  Please fill out a green poinsettia order sheet (found on the table in the welcome area or online at tinyurl.com/UCCpoinsettia) and turn it in to the church office. You may also contact the church office at 330-725-4559 or to place an order.
Why not reach out to our Circle of Caring members and send them a Christmas card? The list of addresses is available to pick up in the Welcome Area of the church or you may call or email the office for a copy.
On the mission front, we have many opportunities for giving. The Mission Team is doing a reverse Advent calendar. The calendar can be viewed and printed out by clicking here. Simply collect some or all of the food items listed and bring them to the church by December 31, and we'll get your gifts to the Claggett Middle School Food Pantry.
In years past the youth group collected needed items for different local agencies.  This year we will be collecting gift cards so that the church office has some on hand to distribute to those in need. If you would like to contribute a gift card there are two ways to do it:
Go to shopwithscrip.com, scroll to the bottom of the page and click on "Retailer List." Contact Kelly ( or 330-725-4559) to let her know which gift card you would like to purchase from the list of participating retailers, and then send her your money. You cannot purchase directly from this site. By doing this the youth group gets a little kick back for each gift card ordered.
Purchase the gift card yourself and drop it off at the church office. We will be collecting gas cards and gift cards from Wal-Mart, Target, Walgreens, Rite-Aid, Aldi, and Giant Eagle.
Those are our Advent Season plans! Thank you for reading this and BEING the church this holiday season. We look forward to waiting with you for the birth of Christ in ourselves and in our world.
Yours in Christ,
Pastor Luke