With the holidays upon us shortly, I wanted to zoom in and talk about our journey through Advent in a little more detail than in my last Pastor's Corner.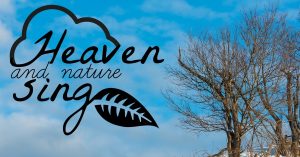 Our theme this year is Heaven and Nature Sing! Christmas already happened a long time ago. Hope, Peace, Joy, & Love of Christ can be born again in us and in our world. We sing to celebrate this wonderful time of the year. Be prepared for a LOT of singing! And we're bringing back a selfie wall! This is going to be a lot of fun as we expectantly wait for Christmas.
We will have a devotional from Illustrated Ministry entitled God with Us. It is a wonderful companion piece for children of God of all ages! We'll revisit the stories through crafts, coloring, and prayer. You can pick those up on at Youth Group on 11/21 and Sunday, November 28, 2021. I'll do a weekly devotional based on this great resource on our Facebook page Mondays at 1 p.m.
Our Sunday schedules are as follows:
Date
Scripture
Theme
November 28
Jeremiah 33:14-16
Luke 21:25-36
Hope
December 5
Phil 1:3-11
Luke 1:68-79
Peace: Zechariah's Song
December 12
Isaiah 12:2-6
Joy: Children's Sunday: The Best Christmas Pageant Ever!
December 19
Micah 5:2-5

Mary's Song: Luke 1:46-55

Love: Choir Program at the 10:30

Gathering Band Hymn Extravaganza at the 9

December 26: one service at 10 a.m.
Luke 2: 41-52
PJ Service: Come in your relaxed wear (Christmas jammies encouraged) for an intergenerational worship.
January 2, 2022: one service at 10 a.m.
John 2:1-11
All Saints Worship Service
January 9, 2022: back to all three services
Matt 2:1-12
Epiphany Service
Our Christmas Eve services will be December 24 at 6 p.m. and 9 p.m. We're planning brass and a return of our regular worship! We will be streaming the 9 p.m. service.
Looking into January, we'll have our Epiphany worship series, and this one is a BIG one! Our series is entitled MORE LIGHT AND TRUTH. It comes from our Congregational ancestor John Robinson who stated, "I believe there's more light and truth to break forth from God's word." This worship series will remind us of some great characters in the Bible, and present them in a new light.
We'll kick off the New Year with a NEW YEAR DANCE PARTY! My good friend, the Rev Corbin Tobey-Davis (aka DJ Rev. CoBeCo) will get us moving on Sunday, January 2, from 4-6 p.m. It's a youth group, but if you want to dance, you're welcome! Corbin will minister to our body, mind, and spirit as we dance like David in praise of God! Our DJ will join us via Zoom as we dance in Fellowship Hall. If you want to join us and dance from home, we can provide you that Zoom link!
We'll start a Monday Bible Study as well. Starting on Monday, January 3, we'll meet at 1 p.m. and 7 p.m. Same content! Two different times. I hope to include those who don't like to drive at night as well as those who have to work. We'll cover ANIMATE: The Bible, a series of small video reflections about the Bible. We'll continue this through the end of the year.
We'll also do the GREAT BIBLE BUY. At the start of the pandemic, we took all of our bibles out of the sanctuary. The staff and others noticed how our bibles are falling apart. The staff estimates that we last bought bibles in the 1960s. It's time to refresh and refocus on our pew bibles. You'll have a chance to purchase a bible in memory or dedicate it to someone. Details will be announced, so keep watch for news.