Our Chapel Worship meets early in the morning in our simple brick chapel with historic furnishings. The Chapel service provides an intimate and relaxed worship experience that follows a more traditional liturgy. The sermon and Scriptures are simila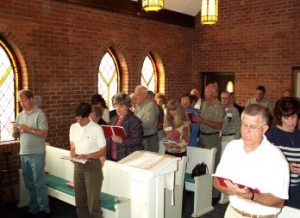 r to the 10:30 Sanctuary service. The congregation sings familiar hymns and special music is provided by our organist or soloists. Coffee and refreshments follow each service.
The Chapel service meets at 8:15 on Sunday morning in the United Church of Christ, Congregational's chapel.