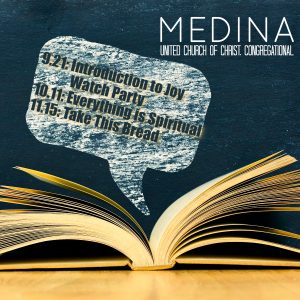 We had a wonderful time discussing Sue Monk Kidd's Book of Longings. We'll keep a monthly gathering going from now until the holidays.
On Tuesday, September 21 at 7 p.m. at Fellowship Hall, we'll gather and watch Rob Bell's Introduction to Joy. Happiness is fleeting, but Joy is something that never leaves. It's part-sermon, part standup comedy and suitable for ages 12 and up. Bring a friend and come ready to laugh, learn, and discuss!
Monday, October 11 at 7 p.m. we'll gather to discuss Rob Bell's book Everything is Spiritual. This book is so good, when I finished reading it, I flipped right over to the first page and started again. It's part memoir and spiritual guidance. I believe in our discussion we'll find that not only is God still speaking, but more constant and in more ways than we previously realized.
We'll round out our Trinity of Book Studies with a book about SERVE on November 15, 2021 at 7 p.m. Sara Miles great book Take This Bread will be the subject of the night. A brilliant book about what happens when an atheist randomly walks into church and receives communion for the first time.
Each of these events are one night only. I hope you'll join us in Fellowship Hall for each of these events.