November is here and the little sunlight we get is all golden hour. What a blessing this month is and shall be for us.
I'm thankful for Harry and Pam who brought us an afternoon of transcendent Irish music with Creggane. I'm thankful for the work of Ellen Nolan and our community in supporting the Period Pack Donations. We'll have somewhere in the neighborhood of 1,200 packs going out to 4 middle schools: Claggett, Root, Buckeye, and Black River! It was a great idea and one that our whole community was able to get in on. Well done church! And thank you Ellen!
Our Garfield Elementary feeding program is starting up again! A delivery went out already, supplied by the new team. They wanted to make sure their process was simple and understandable. You can get in on it by bringing in food for our next delivery… check the bulletin board in the sanctuary hallway to sign up! Let's WELCOME, LOVE, and SERVE together! I am thankful for the work of Mike Medley, Ellen Nolan, Kristen and Charles Metcalf, and Stephanie Stepsis on this relaunch. If you have questions, talk to Mike. If you want to serve, please let them know!
Speaking of serving, what happens when an atheist takes communion? She writes a spiritual memoir and we get to talk about it! We'll meet in Fellowship Hall on Monday, 11/15 at 7 p.m. and talk about Take This Bread by Sara Miles. We'll take December off for any spiritual formation and then start again with a regular Bible Study. I'm thinking (this is a yellow without green communication right now) that I'll hold a Bible Study twice on Monday, one in the afternoon and one in the evening. Something each and every week for folks to join. More information will come soon, but if you'd be interested in such a study, please let me know!
We'll have the Hanging of the Greens on November 24 following the 10:30 service. Our Advent Theme will be Heaven and Nature Sing! We'll have a lot of fun things planned and LOTS of singing! Here are but a few events for your consideration:
ADVENT FAMILY FUN NIGHT
Sunday, December 5, 2021
Mark your calendars for Sunday, December 5th as we welcome the season of advent with our annual Advent Family Fun Night.  We are going to try something new this year so stay tuned for details to come soon.  Have no fear though it will still be a night of fun, fellowship and lots of Christmas spirit.  Hope you will join us!
CHILDREN'S CHRISTMAS PROGRAM
Sunday, December 12, 2021
The children have started to work on the Christmas Program for this year.  They will be performing The Best Christmas Pageant Ever during the 10:30 worship service on Sunday, December 12.  Make sure to mark your calendars for this special day.  You will not want to miss it!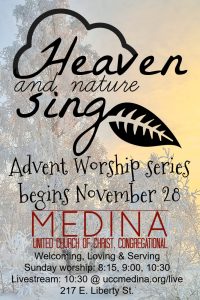 SPECIAL MUSIC PROGRAM
Sunday, December 19, 2021
The choir will share their gifts and we'll sing out with Joy as we await the coming of the Lord! This will be a jam-packed Christmas hymn Sunday with a few surprises. I hope you'll come out.
There's an exciting opportunity presented by the Living Waters Association! My friend, the Rev. Jason Thompson is leading An Intergenerational Pilgrimage entitled: The Footsteps of the Civil Rights Movement from June 14 to 20, 2022. You will journey back in time and walk the footsteps of civil rights pioneers who dreamed for equality, a day when all God's children would live in peace and harmony. Among the sites visited will be Dexter Avenue Baptist Church, Southern Poverty Law Center, Rosa Parks Museum, National Voting Rights Museum, Edmund Pettus Bridge, Birmingham Civil Rights Institute, and 16th Street Baptist Church.
Total Cost: $1363 (includes lodging, daily breakfast and dinner, entry tickets, and round-trip airfare)
$300 deposit due by January 1, 2022 (scholarships available upon request)
$500 due March 1, 2022
Remaining balance due May 1, 2022
16 spots remain, so sign up soon here:
I'll do an Advent specific Pastor's Corner next Sunday. We're in for quite an ADVENTure. Okay… I'll stop now.
Yours in Christ,
-Pastor Luke