I can't believe we're talking about October. October is my holy month. I love it. The trees on fire and it ends with Halloween! Halloween is spooky but also the most community-focused holiday. You get to visit your neighbors, celebrate their creativity, and give out candy to strangers. That sounds like a picture of the kingdom of God. May we live more days as if they were 10/31. But before we get to that hallowed date, we have a few others.
On October 3, we'll have one All Church Worship at 10 a.m. to welcome our new members and celebrate World Communion Sunday.
Blessing of the Pets: Bring your pet to be blessed on Saturday, October 2 from 1-3 outside the church on the square! Any pet that is safe to bring is welcome. Each pet will be individually blessed by Pastor Luke. Invite your friends and neighbors! Free pet treats from One Lucky Dog Bakery, bandannas, and blessing cards while supplies last! Let's celebrate God's compassion and concern for all creatures.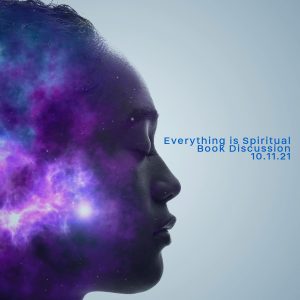 Everything is Spiritual: Monday, October 11 at 7 p.m. we'll gather to discuss Rob Bell's book Everything is Spiritual. This book is so good, when Pastor Luke finished reading it, he flipped right over to the first page and started again. It's part memoir and spiritual guidance. You can find it through your bookseller or the local library. In our discussion we'll find that not only is God still speaking, but more constant and in more ways than we previously realized.
PUMPKINFEST! Join us for pumpkin carving, s'mores and a family-friendly outdoor movie on Sunday, October 17, 2021 at 5 p.m. What movie you ask? Well, after carving we'll sing pumpkin carols! All ages welcome! There is also a movie on the Square the Cool Beans is hosting the night before. My family and I will be there for that one and invite y'all out as well.
Confirmation will be in full swing by this time. We have an outstanding group of young folks and I'm excited about the year ahead. These take place the 2nd and 4th Sunday's of the month while our Youth Group Sundays take place the 1st and 3rd Sundays.
Looking ahead to November, We'll round out our Trinity of Book Studies with a book about SERVE on November 15, 2021 at 7 p.m. Sara Miles great book Take This Bread will be the subject of the night. A brilliant book about what happens when an atheist randomly walks into church and receives communion for the first time.
This fall is packed full. Lots of events. Lot of mission opportunities are in the works. Good things happening, Church! Including trying to hire a position for Youth and Mission. Details will follow about that. The Garfield and Library feeding programs will be coming back. Getting these up and running again will take a little bit of focus, so my typical Bible Study, "Tuesdays at Two" will return in January.
That's what I know this month. I'll keep putting out the dates and communicating through the Messenger and social media. Thank you for being the church! As always, questions, comments, primal screams; please don't hesitate to contact me.