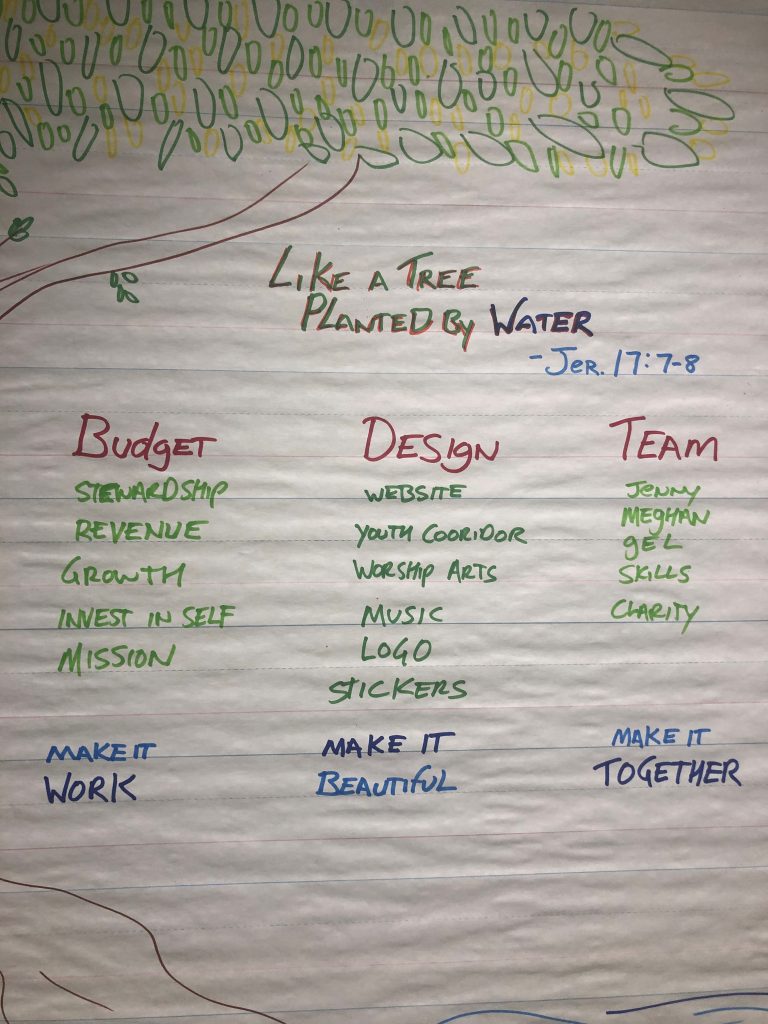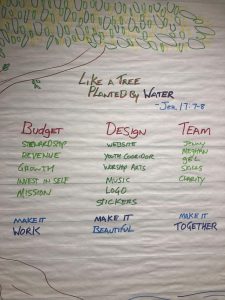 Our staff took a retreat in August and we're about to retreat in Advent. We gathered to pray and plan where we would need to go this year. My friend, the Rev. Joanna D'Agostino from Lakewood Congregational gave a sermon on Jeremiah 17:7-8, "Like a tree planted by water." She stated how it's good to be rooted. Rooted in the past, in tradition, in history. With 203 years behind us, I would say we're very rooted here on the Square in our town and region.
Yet it's not good enough to just be rooted. Jesus said you judge a tree by its fruit in Matt. 7:15. We have to generate something. Rooted and generative is the phrase we wanted to work on.
Three areas we wanted to focus on is to generate a growth budget. Generate good design. Generate a good team with Jenny and Meghan joining us. Another way we thought about this was to make it work (budget), make it beautiful (design), and make it together (team).
I feel our team has really come together quickly and in a short amount of time. Jenny is bring us more sound and energy in our music than I've ever heard anywhere. Meghan is bringing her gift for writing, design, and a heart for youth and mission in everything she does.
Our design has been shown in our Beautiful Together paintings we made at Alive on the Square. We made Beautiful Together stickers. Ryan Collins, our seminary intern, has signed us up for Canva, an online design program where the staff can collaborate on designs like never before. Meghan, Nicole, and Stacie have been hard at work in rooms 7, 9, 9/10 making a "youth corridor." They are clearing out, cleaning up, and adding a fresh coat of paint to things.
Which brings me to budget. A few folks wondered if the misprint in the letter was the $50 a week pledge. No, that's just a suggestion the stewardship team came up with. They saw that our average income in Medina is around $85k. The national average of church giving is around 3% which would be a $2,550 yearly pledge or around $50 a week. This is just a suggestion based on the data we have. We won't check your W2 or any draconian thing. Everything we do here is invitational. If your household is making around the average income, then there's your bar. If you're pledging more than this, thank you for your generosity! If you're on a fixed income or make (like I do) less than the average, then whatever you pledge is the right and generous amount.
We have come out of the pandemic strong. Strong enough to hire an associate with a specific purpose. Strong enough to hire a musical force which has reinvigorated our music program. Strong enough to keep welcoming, loving, and serving for another 200 years. With our people, in this place, I see great possibility. Let's go seize it!