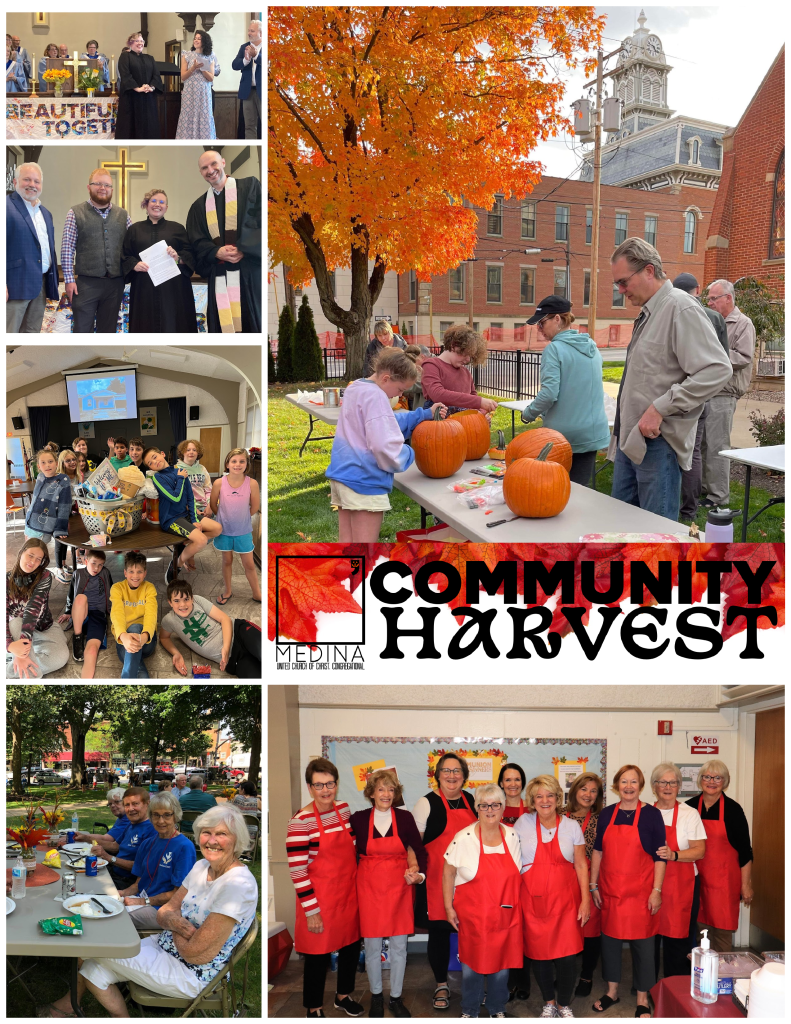 Community Harvest: People
November 6, 2022
In the eleventh year of the Next Generation Leadership Initiative, in the 10th month, on the eighteenth day of that month, I went to Carefree, Arizona.[1]
The Next Generation Leadership Initiative or NGLI is a program that I was in from the UCC Pension Boards. It was created when three pastors saw how church has changed and how young pastors were burning out. They dreamed of a program that would focus on investing in pastors and teaching them the skills required to go into the future of ministry.
I made friends in my cohort of 12 pastors from all over the country. We met twice a year for 4 years to talk about team building, family systems, adaptive leadership, and vital church practices. We attended two UCC National Synods. We celebrated births of children. We lamented losses of family, friends, and church members.
The last time my Cohort was together was in an upper room in a bar in Cleveland, Ohio following the National Synod there in 2015. After 7 years apart, a global pandemic, and a move from an associate pastor to senior pastor, seeing them last month was like walking into a room I had just left. We picked up right where we left off. There was a sense of support and love that was tangible in the room.
That's a rare thing for me. Maybe some of you have that happen all the time. At the end of our time together, we sat around and told stories of ministry, like our worst goofs during weddings and funerals. One friend once asked during the vows, "Do you Mary take Isaiah to be your husband?"
"NO!" Came the response from the angry bride. "His name is Joe!"
My friend had missed replacing the groom's name from the last wedding. Oops! Another pastor advised the importance of the "find and replace" option in Microsoft Word.
Another pastor not known for their singing was belting out their favorite hymn only to realize that their mic was still on. The congregation gave them a standing ovation. Whether it was for the singing or the fact that the singing stopped is still unclear.
I told the story of a bride who said she was having a huge wedding. I showed up and met the bridal party of 11. On each side. A bridal party of 22 plus the ring bearer, flower girls, the bride and groom's dog, and of course the bride and groom. There were only 9 people in the congregation. It was strange, and I just had to laugh. It was the weirdest wedding I'd ever done. Yet from that wedding, I had 4 follow up weddings from the bridal party of 22. Those wedding ceremonies went much smoother.
I told the story of the funeral in Sylvania that turned into a roast. The dearly departed was a man named John Weed.[2] With a name like John Weed, you know he's gonna be a good human. He was an every Sunday kind of guy, always with a positive attitude. His witty one liners and personable demeanor made his dementia hard to spot. He was in his late-70s when I was his pastor, and he spoke of his career as a real estate agent. As the dementia progressed, that was the time of his life that he really latched onto.
John had started to wander out of his room and around town. His family took his car away. They tried to get him in a memory unit, but that had a waiting list. So they moved John up to the 3rd floor and installed an "office phone." He then stayed in his apartment in case any calls for showings came up. When I would call him, he started to think I was one of his clients, and he was selling me a house. If that's what I had to do when I was checking in on him, that was fine by me. Until one day he sold me my own house.
"Ah, Mr. Lindon!" He greeted me when I called, then corrected. "I'm sorry, Rev. Lindon! Do I have a house for you! 6030 Brainard Dr. would be the perfect house for your growing family!"
"Uh, yeah! The big red colonial?!"
"That's the one! I think we can get a price on it. What do you say?"
I bought it there on the spot. I made a time to go over all the paperwork over coffee next week. And that's how I checked in with John. I shared that story at his funeral. And I then turned it over to his family for their remembrances.
Cousin Johnny stood up and said how he was named for Uncle John. There was a special bond between them all their lives. Uncle John was there all through his life: kindergarten graduation, all the elementary school plays, tee-ball. When he got his driver's license, Uncle John took him out to dinner. When he started his first job at the deli counter at the grocery store, Uncle John was there.
"Johnny, wanna know how to impress your customers?"
"Sure, Uncle John."
"Great, come with me."
"Uncle John, I can't leave the counter. I'm working."
"You wanna impress people or not?!"
John took him outside and said, "This is top secret. This was my first job too. Here's what my boss showed me and what I became known for and got a few tips by doing. You gotta snap the paper bags. You lick your fingers like this, and then you grab the bag and snap it open like this." And there was this loud pop *WAH BAM!* that made Johnny jump and laugh.
Johnny then gave a moving meditation about how showing up is so important. How being quirky and funny are not bad things and how we should be proud to be Weeds because no matter how much spray you put on us, we keep popping up everywhere. At graduations, baptisms, weddings, tee ball games, and at your local deli counter.
Then Johnny says, "This one is for you Uncle John." He then licked his fingers, reached into his jacket pocket, and *WAH BAM!* he snapped open a paper bag. We all jumped and then laughed and cried all at the same time. And then the rest of the family proceeded to be equal parts profound and hilarious. It was one of the best funerals I had ever been a part of.
I told that story to my NGLI peers, which then brought forth 10 more stories from my pastor friends just like it. Picture a room full of pastors, telling stories about you, church. Sharing our love for you. Our hopes and dreams for you and our future together in ministry.
How one friend's church had a food bank that served 150 families before the pandemic in a largely Hispanic area. Most people worked in food service, so during the shutdown, the food bank need jumped to over 2,000 families. And the church did it. It was the feeding of the 5,000 all over again. God is still speaking. Jesus is still dividing up the fish and the loaves and feeding with baskets and baskets left over.
A room full of pastors giving thanks to God for you, brothers and sisters beloved by the Lord because God chose you as the first fruits. You who are called beloved. You who show up. You who hold fast to the traditions and share by word of mouth or by letter or posts on social media what you're finding here.[3]
I give thanks because I was reminded of my sense of call. My mission is to rehumanize the church. For the church is never a question of "What" as in buildings, doctrines, hierarchy, and structure. The question of church is always a "who" question. Who is the church? Well, I'm looking at it.
The church is always a people called out to serve the entire world. All members make up the body of Christ corporately, and all members can be Christ in any given time as individuals. C.S. Lewis wrote in Mere Christianity that Christians should become "little Christs" to one another and to the world, affirming that "the whole purpose of becoming a Christian is simply nothing else."[4]
This group is organized with the recognition that, according to theologian Miroslav Volf "all members are gifted and are to engage their gifts for the good of all others."[5]
There's no such thing as a "professional Christian," just someone who has had more experience and time living in the story of God. Not one person has all the answers, but there are those who understand the questions better. It is this understanding and wisdom that give them a sense of authority that they then use to serve those who are newer to the story. They use their authority to train up and pass on the story to others, allowing for the gifts of others to grow and thrive.
The church is a group of learners who learn about God's love and work in themselves in covenant with a community, and then seek to tell the good news to others. They are part of a historical tradition (Apostolic). They seek to find unity within diversity (One). They strive to be honest, peaceful, and compassionate as God is (Holy). They are inclusive of all people seeking to serve the whole world (Universal). Their mission is to become like Christ. Everything in the life of the church, from our worship to our fellowship to our outreach, should serve to shape us to live like Christ.
God's will for all of creation is to participate in the life of God. Living like Christ is not a paint-by-numbers sort of thing. It is not a one-and-done, but it's a challenge of living love in any context you find yourself. No one will be the church for us, nor are the doctrines and belief statements substitutes. We must be the church in our time and era.
We each bring our own gifts. Our own histories. Our own stories. When you become the church, you harvest community. Look around at yourself, church. This is us, here and now. Trying and failing and working again to love each other as Christ loved us.
We might get each other's names wrong from time to time. We might not sing on key, but we do make a joyful noise to the Lord. We celebrate births of children and lament losses, together. We tell the stories of awkward encounters and of the saints of our lives who taught us how to look cool in our first job and our current careers. Do you wanna impress people or not?!
I get the sense that God's spirit abides here. So take courage all you people and do not fear. God is shaking heavens, and the earth and the sea and the dry land, and the treasure of all nations is coming. And that treasure is your stories. That treasure is you. You are the gift of God and you belong to God and we belong to one another. In this place, we have prosperity, says the Lord of Hosts.[6] Thanks be to our God. Amen.
Works Cited
[1] Based on Hag 1:15b
[2] Rest in Power, John. https://www.legacy.com/us/obituaries/toledoblade/name/john-weed-obituary?id=24438650
[3] 2 Thess 2:13-17
[4] C.S. Lewis, Mere Christianity (New York, NY: Harper Collins, 1980), 175.
[5] Volf, After Our Likeness, 236.
[6] Adapted from Hag 2:8-9