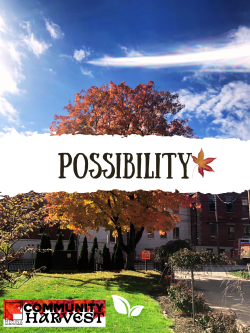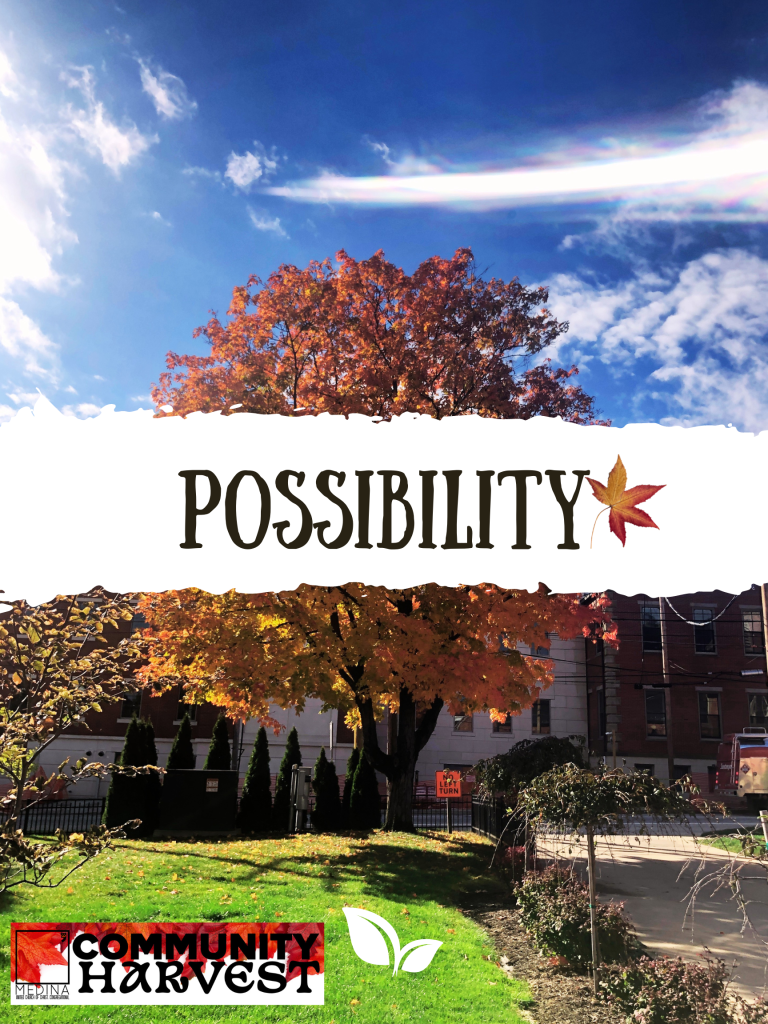 Community Harvest: Possibility
November 20, 2022
The church is magic. I've been saying this for 3 weeks straight now. Y'all are just magic. We are magic. People in a place together can imagine amazing possibilities together.
Let's talk about the possibilities for our life together. We are in the process of creating a youth corridor downstairs. We're well on our way with a Maker Space where our youth can craft and build and make things that Stacie and the DELTS team have been painting and organizing. Meghan has been sprucing up room 8 as a teen hang out space. It's looking good and I invite you to go check it out today.
We'll have young families here. We'll continue to support the circle of caring and keep our elders and homebound in mind. But we're already working on those things. Let's get a little crazy with the possibilities.
How about this: We'll add a third story to the church. Up there we'll put a recording studio where we can produce podcasts, choral albums, and original praise music. Like have you ever thought of what Ecclesiastes would sound like as music? What do the gospels sound like? Maybe Matthew would sound like classic rock and roll. I know that the Gospel of John would be some far-out experimental mystical stuff. Imagine a church that can do that! Produce art and music, vacation bible schools and liturgies filled with creative, inclusive, mission-based expressions of faith.
I would love to have a dedicated space for Jenny to work in. To get Cathy's playing recorded. To have those two artists along with our Gathering band hone their craft and produce original music in our third-floor music studio. Maybe we'd get a podcast going out of there. Rent it out to local bands and generate revenue from it. We'll have more rooms for Hobby Horse preschool, maybe a gym up on the third floor so I can shoot some hoops with our youth.
Too big of a dream? Scary? Here's the magic of church. If you get the right people in the right place, anything is possible. We are sitting in a place that was once a dream of folk who made a log cabin in a day. It was once just words and lines on some blueprints. We are living the dream of our ancestors. It seems impossible until you put it out there. As Walt Disney once said, "It's rather fun turning your dreams into reality. It's amazing making the impossible, possible."[1]
Jesus often made the impossible possible, preaching on God's dream for humanity called the Kingdom of God. We are at the end of the church year. It's a hard ending. Not the ending I would have picked if I were in charge of the lectionary. I would have ended with the resurrection or some joyful parable. It's an ending the disciples never thought possible. Jesus executed by the state. The execution cheered on by the people that celebrated his arrival with palms and coats laid out for him when he entered the city less than a week earlier. Now they are out for blood. He hangs from a cross like a common criminal with two others. One who mocks him. Another who says, "Jesus, remember me when you come into your kingdom."
To which Jesus replies, "Truly I tell you, today you will be with me in paradise."
Where does the criminal from today's Gospel factor in your theology? He doesn't really fit if we're honest. Jesus doesn't baptize the guy. Doesn't make him sit through new member classes. Jesus doesn't have his moderators ask questions to see if this guy had the right doctrine or if he has read Calvin's Institutes. What is offered is what this guy, stuck in place with these other people… the criminal sees the possibility in Jesus. The Good News of the kingdom. He tells the other criminal to shut up and asks Jesus to remember him. Jesus promises paradise.
It's amazing the possibility we have in Jesus. Though we might feel stuck in place with our circumstances. Though we might have just been in a fight with our neighbor. Though we have been mocked and condemned by our peers in their judgment, there is grace to be found in Christ. What is so amazing it is that this caused Paul to get poetic in our Colossians passage. Paul has high praise for Jesus calling him the "firstborn of all creation" and yet in this vast and infinite cosmos, Jesus rescues us from the power of darkness and given us redemption and the forgiveness of sins. In him, God was pleased to reconcile to Godself all things.
If God can do that, who is to say what else is possible in Christ?
To be truly honest, I don't need a third floor. It'd be cool. More so I would like us to retain and maybe give some raises to our staff. Your pledges make that possible. I'd love to move one or two staff over to full time to help us achieve our goals.  I would love us to consider utilizing our space more to generate revenue. As they say in real estate: location, location, location. We have it! And we have this gorgeous building that folks need to see and experience.
Mostly I want us to be a place of transformation. As our association's general minister, the Rev. Nayiri Karjain stated at the annual meeting last week, "We must encourage and support our congregations to grow into Christ for the world. Places where crisis is transformed into creativity. Nostalgia transformed to adaptability. Anxiety transformed to trust. Weariness transformed to compassion."
I'm wondering… what possibility do you see? What hope do you have for the future? What is something you've always wanted to try? Let's take a moment and generate some ideas together….
Hear the hope in the room y'all. I pray that the spirit moves us as we have the right people in the right place to make these possibilities come true. I pray we can be that place here in our context for our city, county, nation, and world. The Rev. Michael Howard, our association's minister of faith in action quoted Rebecca Solnit's phrase about hope, "Hope is not a lottery ticket you can sit on the sofa and clutch, feeling lucky. It is an axe you break down doors in an emergency."
I have great hope in us because of who we follow. Because of what is possible in Jesus. Because I know that we are magic. When we have the right people in the right place, possibilities emerge. We have the right people in the right place on staff. We have the right people in the right place in our leadership of moderators, committees, and teams. We have the right people right here. I am reminded of that famous Margaret Mead quote, "Never doubt that a small group of thoughtful, committed citizens can change the world; indeed, it's the only thing that ever has."
The question is not "what does Luke see when he closes his eyes?" The question is what possible future do we want to work toward together? This is not the Luke show, but I thank you for the 8-15 minutes in the sermon. I hope I reflect and point to God at work within and among us. I hope my words encourage you to welcome, love, and serve, in a world that gives conditional welcome, deals in hate and violence, and often celebrates selfishness. How do we want to live out how to welcome, love, and serve here? I hope that we can be the church in this place to transform ourselves for the benefit of others.
If we get the people in the same place to have an honest conversation, magic occurs because when two or three are gathered in Christ's name, he is there in our midst. The Spirit stirs and we find ourselves on a holy adventure of transformation. I hope each Sunday is that space for you. I hope you've found magic here. I have one more possibility for you. This year, the Moderators and I want to get us into the same room to talk possibilities. We will retreat to Krabill Lodge down in Chippewa Lake on February 11th to talk possibilities together. We want all interested parties to come on out for a guided discussion on our possibilities which might lead to a third floor… or something else. Something surprising that God's spirit is stirring within us.
Details will follow. But for now, know that you matter. We are beautiful together. That we get it wrong sometimes, as we are a community of sinners, yet that is the time to practice grace, forgiveness, and reconciliation. And that leads us to a great community harvest of people, place, and possibility. Your prayer consideration of your pledge will help us grow and help transform our people, this place, and follow the Spirit into more possibility. What we do here has cosmic significance. And what is possible when we offer our time, talent, and treasure is nothing short of magical. Thanks be to God. Amen.
Works Cited
[1] From Christopher Perry's presentation on his book, The Church Mouse: Leadership lessons from the Magic Kingdom. Wednesday, May 2, 2012.