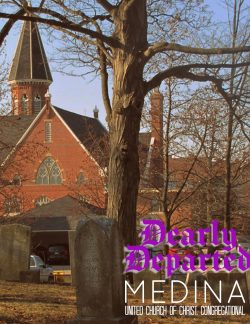 January 2, 2022
Let us begin with a question asked by George Saunders in his novel, A Swim in a Pond in the Rain; "How are we supposed to live with joy in a world that seems to want us to love other people but then roughly separates us from them in the end, no matter what?"[1]
That line stopped me in my tracks. That seems to be the question, doesn't it? How shall we live with joy and love people when those other people are always dying on us?
That might be a crass way to ask what Saunders rendered more poetic. It feels crass. I don't mean it to be. Maybe by trying to talk about the question, I'm avoiding actually answering it… and that feels like how many folks live.
Some, in reacting to this existential question, just stay home. They keep a very close circle. Trust has to be earned. If you're not in the circle, then you are an outsider, an other, and are easily dismissed and ridiculed.
Some like to quote Shakespeare. That this life of ours is a tale told by an idiot, full of sound and fury, signifying nothing.[2] This is the world of Generation X. This is the too-cool-for-school attitude of grunge and punk. "Whatever" is the rallying cry of the disaffected nihilists. I was here, too. I tried this out for a while, and maybe you did too. Maybe you are currently here.
The world where everything is held at a distance. Everything is either total crap or just okay. There's no good in this world view. We tried this. Or at least, I did. Yet I couldn't help but just love things. Certain albums, Van Gogh paintings, Star Wars, and Spiderman comic books. I get all geeky and obsessed but then I felt the need to hide my love of these things… and even my love of people.
There was this woman at my school's elementary Wednesday masses who would say "Amen" about a half second late, and with a heavy accent. It would come out as "MEN." And my peers would giggle and make fun of her. I had the chance to meet this woman and spend time with her, and she was a wonderful human being. A first-generation immigrant from eastern Europe, just like my grandpa. She spoke about how her faith kept her going and connected her to others. I had to give a report on her in 8th grade to a room full of snickering middle schoolers, and I felt a strange mix of shame and pride. I started sheepish and ended like a freight train. I was embarrassed at first, but then realized the power in her story and I felt emboldened by her story. Her story had a sense of power about it. That might have been the first sermon I ever delivered. It turned the "this woman is a joke, whatever" to a point of pride for our class. At least the young women in my class got what I was trying to say, and when the boys tried to make fun of her "MEN" the girls shut them down.
The girls and women of the bible always seem to get it before the guys do. It's a fact of life I've discovered as well. Gentlemen, we got work to do. It took me awhile to be vulnerable to but there is power in it.
I hate being vulnerable. I would rather you see my competence. That's my Blue brain talking. Please celebrate where I'm strong. As Paul writes in 2 Corinthians 12:9-10, Jesus tells Paul who also wants people to see his competence that instead, "'My grace is sufficient for you, for my power is made perfect in weakness.' Therefore, I will boast all the more gladly about my weaknesses, so that Christ's power may rest on me. That is why, for Christ's sake, I delight in weaknesses, in insults, in hardships, in persecutions, in difficulties."
Yet some folks go the opposite way. I see this a lot in our culture. The hardness. The bullying. The violence with our words. Flying flags with the F word on them. The stridency of just writing folks off without wading into the complexity of their lives. Taking a reductionist view and an angry stance toward the world is another way to avoid the fact that one day, we won't be here. That seems to be what's popular and en vogue now, but it's even more of a dead end than other choices we can make.
There are countless other ways to go through life trying to resist being vulnerable and avoid the fact that we're all future dead people. That life rips away our loved ones. The heroes who help form and shape us. Our pets. Life is hard.
Yet there are those among us who take delight and joy in this life. Yes, it is hard. Yes, it might feel meaningless. Yes, there are those who don't believe in anything, yet whatever we think about this experience, we're all having this experience. In the history of everything, we are here, and it is now.
And where else should we be? We really don't have a choice in the matter. And the wisest and bravest and strongest of us take delight and joy and love anyway. Let us love boldly like we do. That's largely why I'm in church. I need to learn from people like so many of you who I am so geeked out about and love. I'm in awe of such folk.
I'm in awe of spiritual ancestors like King David. That shepherd who became king. Who somehow was placed in front of a giant, who was so small there was no armor to fit him, yet with just a sling and a rock, felled the foe. Who wrote the comforting Psalm 23.
Some scholars believe this song was written not in a time of comfort, but maybe when David was on the run hunted by King Saul who wanted to kill him. He writes in that time, "You set a table before me in the midst of my enemies and my cup overflows."
Ye though we walk through the valley of the shadow of death, we will fear no evil. For love is all we have in this fleeting life. We could try to guard our hearts from breaking, but that results in loneliness and isolation and that, my friends, is no life. That is playing dead while living. I have seen folks live like that. I have seen folks run from the hardness of living, and it results in nothing good. Just denial, callousness, and/or an addiction to help numb the pain.
To lean into the pain and love anyway is the key. Just as Paul did. He was facing persecution. Not the fake kind many American Christians claim when they're actually being held accountable when they don't act like Christ… no. The actual, thrown in jail and death by crucifixion kind. Yet he writes, "Therefore, my dear brothers and sisters, stand firm. Let nothing move you. Always give yourselves fully to the work of the Lord, because you know that your labor in the Lord is not in vain."
And what is the work? To love. Love God with everything you have and love your neighbor as yourself. It is a love like this that the entire bible, our tradition, and all of religion hangs upon.
Love this existence you've been gifted with. Love your neighbor as yourself while they are yet with us. And our dearly departed. Those who are still with us. Author Jamie Anderson once said that grief is simply unexpressed love.
She eloquently says, "Grief is really just love. It's all the love you want to give, but cannot. All that unspent love gathers up in the corners of your eyes, the lump in your throat, and in that hollow part of your chest. Grief is just love with no place to go."[3]
Looking forward to a time when his disciples love would have no place to go, Jesus says to them, "Do not let your hearts be troubled. Believe in God, believe also in me. In my Father's house, there are many rooms… and I go to prepare a place for you, so that where I am you maybe also. You know the way to the place."
But in his grief, Thomas speaks up, "WHAT?! We don't know where you're going! How can we know the way?"
And that's when Jesus says, "I am the way, and the truth, and the life. No one comes to the Father except through me."
Often, we use this as a fence. You better be Christian or else! But Jesus is not proclaiming this to the crowds, not threatening hell to anyone. Jesus, who lives a life of joy and love, who is about to hang from the cross and instead of seeking comfort, he gives comfort to his clueless friends. That way of Christ, that way of being full of joy and love in the face of a life that ends and brutally separates us from our loved ones, that is the way to God. That is the only way to God. A life of love.
Lives like these, death can't touch. When I read through the names of our dearly departed, I recall stories. I'm sad they are gone. But a smile comes to my face. As we start this new year, we leave these good folks in 2021. They will not be coming with us. They have entered the home that Jesus has prepared for them. He has come back to them and taken them to be with him, so that where Christ is, they are as well.
Our dearly departed have left us on this side of life and are with us on the next side. Until then, we shall do good works in their name. Donate to charity or the endowment of the church in their names. Light a candle. A lantern. A bonfire in their honor. Express that grief in creative ways, for those actions are really great ways to shine love again and invite others to share theirs.
For that's what life is really all about. To love in the face of death and not return death for death, but love all the stronger in death. Yes, we are future dead people and we do not yet know who will depart from us this time next year… but we will love all the stronger this year.
Author John Green writes in the closing of his great book, The Anthropocene Reviewed, "Sometimes I wonder who I can survive in this world where, as Mary Oliver puts it, 'everything/sooner or later/ is part of everything else.' Other times, I remember that I won't survive, of course. I will, sooner or later, be the everything that is part of everything else. But until then: what an astonishment to breathe on this breathing planet. What a blessing to be Earth loving Earth."[4]
My friends, you know the way to heaven. You know how to see the face of God. It's by loving. Strongly and purely and deeply and embarrassingly so. Believe me when I say that this is the work God intends for us all, or at least believe in the evidence of the love we have together. Very truly I tell you, whoever believes in the love of Christ and acts on it will do greater things than what I've just preached on.
So go and love in the name of Christ like your life depends on it. Because, in all honesty; it does. Amen.
Works Cited
[1] A Swim in a Pond in the Rain, page 6.
[2] Macbeth says this after he hears of Lady Macbeth's death, in Act 5, scene 5, lines 16–27.
[3] This quote is found all over the internet, on memes, from Good Reads and such, but no book or direct source could I find as of 12/23/21
[4] Page 274.