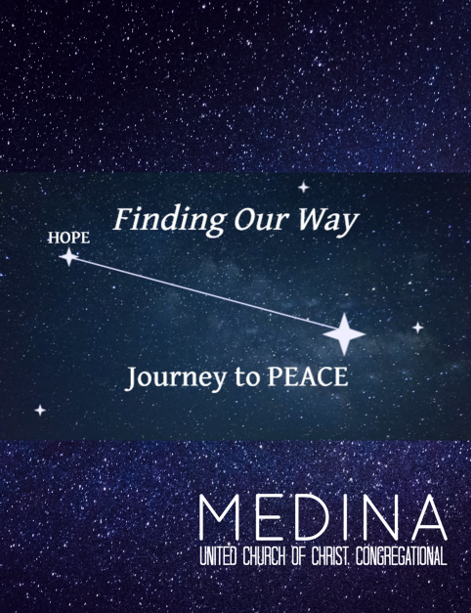 December 4, 2022
Peace is tricky. I was angst filled and angry during some of my youth. Maybe it was being raised in the grunge era of the '90s. Maybe it was my family system. But this time of year has always been peaceful to me. From Halloween to Thanksgiving to Christmas. Peace seemed to be closer, within reach in these times.
Even with the stress of school. The hustle and bustle of the season. There were routines that grounded me. The Advent wreath. The construction paper rings and advent calendars the counted down the days. Opening presents on Christmas Eve at Grandma and Grandpa's in their yellow house on Main Street. Midnight Christmas Eve mass.
These routines were in place and provided a lot of comfort and peace. There's something about putting lights outside on display in the darkest time of the year. When the sun goes down at 4:30, it's good that our neighbors are trying to light our way home.
Growing up, we'd drive around and look at Christmas lights. We would always have hot cocoa on these trips. The good stuff. Warmed milk with Swiss Miss packets with a little chocolate syrup stirred in. Decadent. Then we'd drive around and see the sights. The highlight of the trip was a big display right in the heart of New Philadelphia. The holiday display at Tuscora Park is next level. Flood lights shine on homemade displays with moving parts. It was always the best part of seeing the lights growing up.
Maybe you have a similar practice. There are certain houses that are always on your route. Certain scenes or parks you go to. I hope you have similar nostalgic memories of being in a toasty warm car and oooo'ing and aahhh'ing over the lights.
The fall of 1998 was a rough one and peace was hard to find. My grandparents divorced, and it was messy. It was a chaotic and hard time. There was a special kind of grief that our holiday ritual would be disrupted. Never again would we gather at my grandparents' house on Main Street and head to Midnight Mass together. Yet seeing the lights remained. And that year we took grandma around on our typical route and she ooo'd and ahh'd with us for the first time. Tuscora Park was still the highlight. Grandma had moved into an apartment not far from the park, so we were able to pop over and drive through a few times that year. Those drives helped give a sense of peace and normalcy to the year.
In the summer of 1999, I met a girl at summer camp, and we were still dating when the holidays came around. With the stress of Y2K and the disruption of last year, the lights were still there. I couldn't wait to show this North Canton girl the lights of Tuscarawas County, and especially Tuscora Park. When Kate came for a visit on her college winter break, I made the special cocoa, fired up my Geo Prism, and we went to see the lights.
The first two houses that normally had huge displays weren't up. I was feeling agitated. I started to sweat a little. Kate didn't care. She told stories of what her family typically did over the holidays. She mentioned how one of her sisters growing up thought that houses that had blue lights were Catholic houses. I was taken aback at first and had to think, being Catholic then. Then I just laughed. I never heard that before.
We made our way in the cold, dark night. Radio tuned to the Christmas channel. Eventually, we made it to the highlight. The centerpiece of my whole trip. Tuscora Park! Oh, man Kate was really in for a treat.
We drove through and she was in awe. I could just tell. She stared open- mouthed at the displays. We got to the end, and I asked what she thought and she wondered what any of what we just saw had to do with Christmas.
I was taken aback at first and had to think. Then I just laughed. The Tuscora Park display is entitled Storybook Lane. All the displays depict nursery rhymes. There's Humpty Dumpty who wobbles on top of a brick wall. There are the three blind mice getting chased with a woman with a carving knife. The woman's elbow rotates 360 degrees with a huge knife in her hand. The old woman who lived in a shoe is spanking one of her kids. None of the displays have anything to do with Christmas now that I thought of it. But the routine, the familiarity of the display never caused me to ask that question.
I fell in love with Kate all over again. She had helped me see the display in a new way. It was a little absurd. Yet it was tradition. There are some folks who hide a pickle ornament in the Christmas tree. There are some folks who give fruitcakes. Others walk around their neighborhoods and sing to friends and perfect strangers. Others string lights around their town square and light a tree and have a parade and fireworks. Other tell stories of a jolly old elf and his 8-flying reindeer. There are lots of absurd traditions that bring us peace. The holidays wouldn't be the holidays without them.
There are times where we will need to look at them in new ways. For we can make peace with things that shouldn't ever be made peace with. We need people with fresh eyes to ask the right question, "What does this have to do with Christmas?" We need those John the Baptists who call in the wilderness and ask the right question. Those revelations that help us produce the fruits of repentance. When they speak, we'll be taken aback and have to think, but then we'll laugh as we see things in a new way.
The Greek word for "repentance" is "metanoia" which means to change one's mind. Throughout the years, Kate has continued to ask good questions this time of year. Instead of getting stressed out and running around, we actually slow down this time of year. Sure we still bundle up and go look at lights, but the point is not that each house looks exactly like they did last year. The point is being together and being in awe together. We don't stress out at Black Friday or giving our kids a pile of gifts and going into debt to do so. What does any of that have to do with Christmas?
My gritty hope for you, is to listen to the sewer rat voices like John the Baptist in this season. The axe is already at the root of the trees, and every tree that does not produce good fruit will be cut down and thrown into the fire. If some ritual is causing you undue stress, chop it down. Peace is the goal of the season. And peace is in short supply.
All the ads are trying to make you feel less than to get you to buy the product. But that $120 perfume will not make you any happier. Sure, you'll smell better, but if peace is not in your heart then what does it have to do with Christmas?
Peace to you. Not debt. What does debt have to do with Christmas? Peace to you. And to your opinionated Uncle at the table. Peace to you and to every black sheep of the family. Peace to you, especially you whose routines have been disrupted and you're wondering where to turn. Peace to you, for blessed are the peacemakers for they will be called children of God.. Amen.