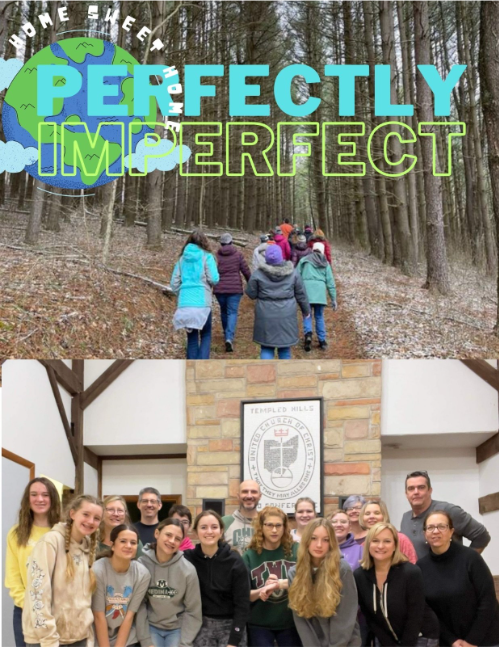 Home Sweet Home: Confirmation 2023
May 7, 2023
Every year the confirmand class is so perfect I can hardly believe it. Each class so different, and yet brimming with talent. Young lives so rife and wild. Our youth have so many gifts and insight, nobody could count all of them.
They seek to join our church, knowing it's not perfect. Neither are they, neither are we. What in this world is? The seasoned members of this thing called church know this truth: No one here is perfect.
Still, what I want in my life is to be willing to be dazzled. To cast aside these facts and float with you all above this difficult world. To provide sanctuary for one another and for our neighbor. To welcome, love, and serve in a world that excludes, hates, and wants to be served is a radical decision.
To believe that maybe less violence is the way forward. One day we will beat our swords into plowshares and our spears into pruning hooks and not learn war anymore. Instead, we learn gardening. We learn to bake. We learn Taylor Swift or Ruth Duck lyrics or how to dance or play lacrosse. We learn how to take long hikes in the woods, off the beaten path and into the briars and thickets and learn to laugh about it. How to play gaga ball or discover a new favorite band.
This is a position of great faith in this violent and cold world. I want to believe like the Reverend Dr. Martin Luther King, Jr said that the moral arc of the universe is long, and it bends toward justice. I have faith that it bends that way because good people are pulling on it. That life can get better. That we can get better: more compassionate, and loving and kind. That the fruits of the spirit can blossom and grow and grow within us and our neighbor.
I believe, like Margaret Mead, we should never doubt the power of a small group and its ability to change the world. Indeed, it is the only thing that ever has. We the church are the change we are looking for. We can think differently and change our ways through Christ who empowers and strengthens us.
I believe that we are looking into the white fire of great mystery; each other's lives and existence. We are here and it is now, and we get to share this life together for as long as we get. We all get the same thing. We get a lifetime.
Let us not waste it on petty rivalries and grudges and hurts. Ask the animals, and they will teach you. Or the birds in the sky, they will sing it to you. The fish in the sea will inform us: there is wisdom in nature and a common life to be shared. Jesus has taught us that through his actions all things were reconciled and all the ways of violence we try don't work. The cross never works. Violence is never redemptive. Forgiveness and peace and reconciliation are. Those are the ways we are called to walk. I've been trying to teach our young men and women this all year in our classes along with Miss Stacie, Rev. Meghan, and our mentors; however imperfectly.
Confirmands, you are about to kneel on the steps some of you once sat on when you were younger for the children's messages. You are about to be blessed by your family, mentors, and this church. This is not the end. This is the beginning of your transition from child to young adult. The church sees this first. We need your leadership now. Your voice. Your truth. We want to continue to learn from you and teach you what we can. Exercise your passions here for you have a safe space and a willing audience. Here you can fail and learn and try again. Not many other places offer that. So come and sing or lead or start a new project like a community garden or feeding program or mentoring. Where your burning passion meets the world's greatest need is holy ground. May you discover that patch here.
Anyone can feel a sense of awe and wonder in nature. That is important. But to share that awe and wonder in community multiplies our joy 30, 60, 100 fold. Don't miss the divine moments of wonder and awe in our neighbors, your fellow church members sitting right beside you. It takes true wisdom to believe that the divine is within and among us all. We are walking around in and among divine miracles.
We are more than each of our flaws. I want to believe that my imperfections and yours are nothing when it comes to the grace of Christ. And I do. Amen.