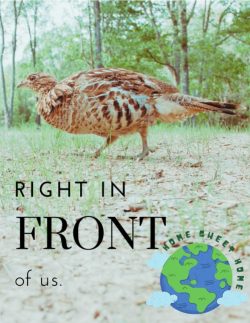 Home Sweet Home: Right in Front of Us
April 23, 2023
My sister started taking horse riding lessons when I was in 7th grade. Every Saturday morning, we'd head out to YMCA Camp Tippecanoe. She would ride. My mom would watch. And I would walk around the camp.
I loved being out there. I was in nature. There is something special about being at a summer camp in the off-season. It's similar to the feeling you get looking at ruins. Or being at a beach town in winter. Between the instructor and my family, it felt like we were the only people on the planet.
There's a dirt road going into camp. Once, sometime in the late fall, we saw a ruffed grouse on that road. It only happened once. It was on a little rise just off the road. It was right in front of us. Right at eye-level to us in the car. Like the Mary Oliver poem[1], this is the place I want to get back to. It only happened once in my life. It was brief, less than 5 minutes. This rare bird moved around this small rise and then back into the underbrush. We stopped and watched it as long as it was in view. I remember being late, and the instructor worrying that we'd been in a crash. We told her about the grouse, and she lit up! She had only heard their drumming sounds in spring during mating season, but never actually saw one.
To this day, when I head out to the Y-camp; I look at that spot. Such gifts, bestowed,
can't be repeated. Seeing that rare bird has been burned into my brain. That moment was like heaven kissed earth. I'm sure you've had a similar experience. The time you were in the right place at the right time. I've had a handful.
Like the time I walked through the wolf exhibit at a zoo, and they all howled when I was smack dab in the middle. Kayaking with my family in Maine, and the seals kept popping up and checking us out. The incredible sunsets in our backyard here in Medina. Especially the ones enjoyed around our firepit. My mouth will speak the praise of the Lord for these moments. And I believe everyone has had similar experiences. All flesh can bless these holy moments, forever and ever. They are right there in front of us. We can experience these moments.
Like the disciples on their way to Emmaus, do not our hearts burn within us when we get to experience such a moment? I sure hope you've had a moment like my grouse one, church. A time where something happened in nature, and you could only stop and stare in wonder and awe.
Like the song says from a few years back, "I hope you still feel small when you stand beside the ocean."[2] I hope you have a Grand Canyon moment. I hope that you will one day travel to that place you've been obsessed with since you were little… and when you get there, you can't believe you're there. You feel like you need to pinch yourself.
In these moments, it's like we're given the cheat codes to life. It feels like something is unfolding right in front of us. I imagine this is what the disciples felt like when the Risen Christ was opening the scriptures to them. There was God, right in front of them. He'd been walking alongside them the whole time, but only in the breaking of the bread did they realize. Gifts given.
Maybe when those disciples returned to the others, there was an outpouring of stories. Not just about the risen Christ, but about those incredible encounters the disciples had. Maybe it was hearing one of his parables. Maybe it was witnessing a healing, or a tender moment of compassion. Maybe it was a teaching of a part of the scripture they had memorized but never fully understood until he spoke about it.
Jesus loved nature. Jesus loved this home sweet home we call earth. Just look at all the nature-based parables! The kingdom of God is like a mustard seed that gives a home to all the birds of the air.
God is a good shepherd who leaves the 99 and finds the lost 1. This echoes Psalm 23 in which our Good Shepherd leads us beside the still waters and makes us lie down in the green grass. Even though we walk through the valley of the shadow of death… Here's where tradition and the King James Translation really excel. Modern translations, like our pew bibles have "Though I walk through the darkest valley"… no I don't. I walk through the valley of the shadow of death! That's poetry. That really stirs something in my soul. That's why I need green grass and the still waters; that's the table set before me and where my cup overflows.
Jesus says God's eye is on the sparrow. Consider the ravens like in Psalm 147 today. There's a point in most people's lives where we go from ignoring the birds flying over our heads to exclaiming "Well, that's a tufted titmouse!" and we become obsessed with birds. It recently happened to your friend and mine, Josh Nolan. He once shushed me and pointed out a cowbird. Or Bob Fodor who stated that our bulletin cover is more likely a ringed-necked pheasant than the ruffed grouse I thought it was.
Jesus says to consider the lilies, they have better fashion than any king. Alan Parkhurst did and it got him to the White House twice with his esteemed career in floral design. Jesus points to nature time and time again. When we consider the wisdom of nature,  it's design, the illuminous web, the delicate balance of everything being connected to everything else… we can't help but stand in awe of what is right in front of us.
Jesus says that the kingdom of heaven is like a treasure buried in a field. That's been my favorite description these last few years. We want pearly gates in the clouds, Jesus gives us dirt and digging. In our theological imagination, we picture heaven as being up. In the air. Cleanliness is next to Godliness. But the one in whom all things were made delights in nature and gives us images not in the sky, but in nature, in the dirt. The closer you are to the rhythms of nature, the closer you are to the divine, for that's what Jesus constantly uses. The treasure I found in that bend in the road was the kingdom of heaven. The kingdom found in early June as I walk through a field at Hubbard Valley Park and the grasshoppers are jumping all around me… it feels like I'm royalty and the grasshoppers are heralding my approach like the disciples wave the palms as Jesus enters Jerusalem. Sometimes my ego gets ahead of my imagination. I think that's what walking into heaven must feel like. The bugs fly out to announce our presence. Our loved ones shout and run up and give us a big "welcome home" hug.
Heaven is right in front of us. It's in our natural world. Right here on this planet. As Psalm 95:4-5 states, "God's hands are the depths of the earth, and the mountains belong to God. The sea is God's, for God made it, and formed the dry land, too."  Psalm 96:11-12 declares, "Let the heavens rejoice, let the earth be glad; let the sea resound, and all that is in it. Let the fields be jubilant and everything in them; let all the trees of the forest sing for joy."
Paul writes in the 20th verse of the letter to the Romans, "For since the creation of the world God's invisible qualities—God's eternal power and divine nature—have been clearly seen, being understood from what has been made, so that people are without excuse." Paul doesn't say that proof of God lays within scripture or tradition. Sure, you can find God there… but Paul in his magnum opus of Romans points to creation. Paul points to our home sweet home as proof of divine power and presence in our lives.
This worship series seeks to point to what is right in front of us. To remind us that if you're looking for God… God's already all around us. Get outside. Hike. Find a metropark. Take a Sunday drive. You might find yourself in heaven unexpectedly.
Just like Mary Oliver did that one time a deer came up and nudged her. Like that one time my mom, sister and I saw a grouse driving out to the Y-Camp. Like that time that you… well… I'd love to hear about that Emmaus moment where the divine was suddenly right in front of you. If you ever feel like talking, you know my address: Gratitude.
Works Cited
[1] https://thepoetryplace.wordpress.com/2012/07/20/the-place-i-want-to-get-back-to-by-mary-oliver/
[2] I Hope You Dance, song by Lee Ann Womack and the Sons of the Desert