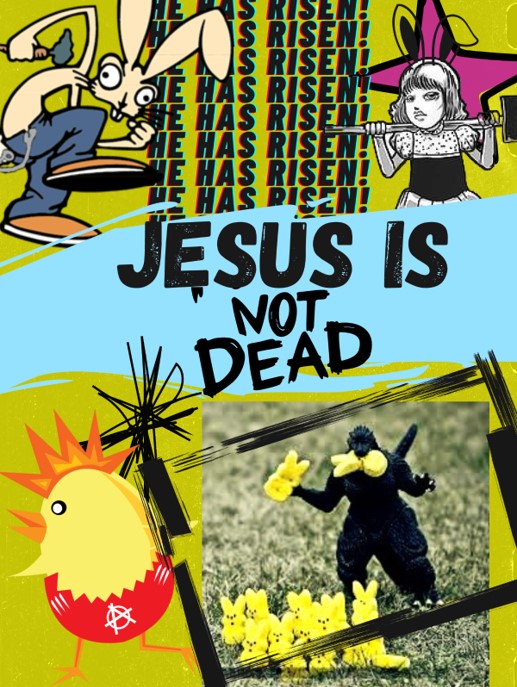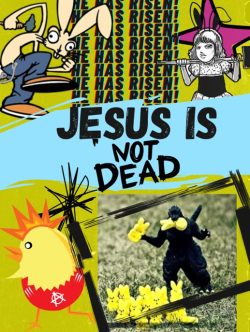 Jesus Is Not Dead: Easter 2023
April 9, 2023
Healing. Faithfulness. Recognition. Three words we get from Mary Magdalene.
The scene begins with Mary Magdalene. Some scholars think that "Magdalene" is her title, not just where she is from. In Aramaic, Jesus' first language; "Magdalene" means "tower." As in "Mary the Tower", "Mary the Great", "Mary the Unmoving Pillar of Faith".[1]
Mary is there at the tomb before sunrise. Mary was there the whole time. Ever since she was healed by Jesus, she has been in the story. She was there when Jesus raised her brother Lazarus from the tomb. She was there to hear his teachings and see incredible works of healing. She was there for the small moments of compassion and tenderness toward all those the religious would call sinner. She knew we are called to welcome outcasts, not make them. She was there through it all. It was Mary the Tower who bought expensive perfume and anointed Jesus with it and dried him with her hair and cried over him. All while the men complained.
We've been talking about Punk Rock in the season of Lent and how the genre is anti-establishment. Well, you can't get more anti-establishment than Mary the Tower witnessing the crucifixion. The Romans used crucifixion as an act of terror. A warning to all who would depart from Roman rule. It's why all the disciples ran away. That's what the cross was meant to do. It is a symbol of an terror: this is what happens to those who resist our rule. Mary stares it right in the face and is at the foot of the cross for the full three hours it takes Christ to die.
Now she's at the tomb before sunlight. Mary. Mary Magdalene. The Tower. I think she needs to be an example of what it means to be a disciple. I'm wondering what if we all take the next year to really consider Mary and her role and example. How she is healed, is faithful, and recognizes Jesus.
Mary has been healed by Jesus. Have you been healed by Jesus? I have. In so many ways I can't quite articulate. I'm better than I was before. More myself. I'm a little more confident. More understanding of others. Not perfect, but more aware of my imperfections. I am more open to love and the movement of God. More open to not knowing for the opposite of faith isn't doubt, it's certainty. And I was very certain of many things, but Christ has saved me from that. From myself.
Those who have been healed by Christ become his disciples. They have a sense that they are different than they were before after meeting him or hearing him or encountering his other disciples. The church is right in this impulse but often wrong in how we describe it. This depiction is often with finger pointing and saying, "You need to be healed. You need to be saved." But the truth is, only we know if we're healed. Christ knows how to heal, and we know when we've experienced healing. But it's not done through shame, which is currency the institution of church often deals in. We try not to deal in that here. Should you hear that, please throw a shoe at me or something. Raise your hand maybe… We are the church. We are the body. We are the covenant promise of Christ for the forgiveness of sins.
You are forgiven. Without having to do anything. You're forgiven. It is finished. Forgiven even though you knew not what you did. It's done.  We can start healing. Even the parts we try to hide from others and sometimes from ourselves, it's done. Jesus sees it and heals it. Just like he did for Mary. And Mary never leaves his side.
Mary is healed. Mary responds with faithfulness. She is there through thick and thin. She believes. She learns. She is there through Jesus' suffering, a firsthand witness to it all. She's the first to arrive. She sees the stone is removed, and she runs to get others: smashing her isolation. Peter and another disciple reach the tomb and walk away. Mary could return to her normal everyday life but she smashes her busyness and has a good cry. It's okay, Jesus wept. Mary does, too. Mary the Tower of Faith doesn't avoid the hard parts of life, you don't have to either.
Jesus asks, "Woman, why are you weeping.?" She thought he was the gardener. Her expectations get smashed. She recognizes the resurrected Christ! She runs and tells the others, and her voice is with us still. JESUS IS NOT DEAD! HE HAS RISEN! HE HAS RISEN INDEED!
Healing is in the land. The kingdom of God has come near for those with senses to perceive. NEW LIFE is in our midst, right now. Even amidst disease, death, and destruction the humble ways of life and healing and forgiveness of sins are here in our hands if we but reconsider things.
Listen, this is hard to say and hard to hear. The number one killer of our youth is guns. 19% of childhood deaths are firearm related for folks ages 1-18.[2] We don't have to live this way. The ways of life are here for Christ said upon his arrest, "No more of this! Whoever lives by the sword, dies by the sword."[3] The Prince of Peace is echoing the Prophet Isaiah, "They shall beat their swords into plowshares, and their spears into pruning hooks and they shall not learn war anymore."[4]
The way forward is that we must smash our egos, befriend our neighbors. Every. Single. Neighbor. The neighbor who doesn't look like us. The neighbor who prays "forgive us our trespasses" instead of "debts," those heretics. We're all about debts here, we're against debt and ways of keeping people in debt, that goes back to Leviticus and Deuteronomy and our congregational ancestors. We can learn from their example in a world that's drowning in debt. We can also forgive those who trespass against us, who step on our toes, who tell hard truths, who expose our hypocrisy.
It's all here. In today's story. The events that we observe today. Mary the Tower is our woman, our example of faith. Her healing. Her faithfulness. Her recognition. She would rather face down an empire than leave Jesus' side. She thinks he's the gardener and Christ just brushes her bad judgment aside, and she recognizes him. This is a great example for us as well. We might not see Christ all around and within us. That's the good news of Easter. Jesus is all around us. New life is all around us. Even the rocks are singing it out these days.
New life is here. Right here. Right now. Right in your hands. Calling your name, and you think it's just a gardener. Or a blue jay. Or the harsh call of a Canada goose. It's the spring peepers. It's a phone call from an old friend. It's the passing of peace and just breathing together. Church, God says yes and offers life, even after we responded with death. The offer still stands. Let's be like Mary and recognize it.
Healing. Faithfulness. Recognition. That's Mary. That can be each of us. Thanks be to God.
Works Cited
[1] https://www.uccmedina.org/sermons/smash-your-avoidance/
[2] https://www.nytimes.com/interactive/2022/12/14/magazine/gun-violence-children-data-statistics.html#:~:text=Gun%20violence%20recently%20surpassed%20car,of%20death%20for%20American%20children.
[3] Matthew 26:25
[4] Isaiah 2:4