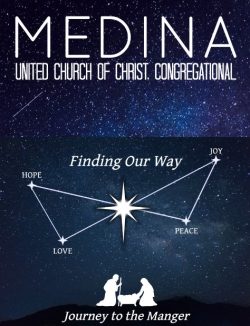 Finding Our Way Through Laundry, Taxes, and Death
December 24, 2022
Taxes and death.
Someone once said that the only guarantees in life are taxes and death. They forgot about laundry. Laundry, taxes, and death. We are born into this world. We live and do unending piles of laundry and file taxes until we die. The end. Merry Christmas.
In case you're wondering where these are in the Christmas story… well, it's taxes that have Mary and Joseph going to Bethlehem. The census is all about taxing the population.
Laundry is easy to find: "And she gave birth to her first-born son and wrapped him in bands of cloth, and laid him in a manger, because there was no place for them in the inn." Luke 2:7.
Death. The magi give the family three gifts of gold, frankincense and myrrh. Frankincense is burned in the temple to show that a deity is near. Myrrh is used in embalming and is associated with funerals. In Matthew's account, soon the holy family will flee into Egypt, crossing the border to avoid Herod's wrath and death threats. One might wonder if the holy refugees were even legal.
It's all there. Laundry, taxes, and death. But we don't bring children into this world to just do those things. We bring children into this world for love and joy and beauty and connection. For sunrises and sunsets. Summer vacations. For autumn trees. Building snow forts. Presents under the Christmas tree. For art and music and spring flowers and to watch Star Wars with.
Laundry, taxes, and death are not good news. Nor do they get the last word. While present in the Christmas story, they don't have center stage. The surprising story of an unwed couple has center stage.
Growing up religious, I was told to avoid a lot of things but namely sex & drugs. My mom liked rock and roll but she taught me to avoid people who engage in those things. One Christmas, I was at my high school friend's family Christmas party. There was a cousin barely older than I was, just a teenager, who was 7 months pregnant. She wasn't married. There was some scandal about this in the family. I was taught this was a bad thing. I voiced my opinion, to which my friend asked me, "Wasn't Mary a pregnant unwed teenager?"
At that Christmas party, folks reconciled. They brought presents to support the mother and expected baby. Highchairs and a pack and play and toys and diapers… mountains of diapers. I hope the magi brought useful gifts, too, but Matthew didn't think to record it. At the party I was at, they laid hands on the rounding belly of the cousin and felt the baby move and kick. My heart grew two-sizes that day, and I was reminded of the Good News that truly is Christmas.
A pregnant unwed teenager brings God into the world. Folks are reconciled. Peace on earth. Good will toward humankind. Do you see yourself in this story? Are you a shepherd? Someone who might not have two pennies to rub together. Who works in an unseen and unappreciated profession. It is the poor who get the angelic choir. They are the first to not only hear about the birth, but show up for it and celebrate it. Mary and Joseph had to be astonished. Yet here they are. They show up. They celebrate. Societal lines are crossed.
Same with the magi. These really rich wise men… magicians? Kings? We're not certain who exactly they were but they weren't from around here. These rich guys show up and give gifts to the King of the Jews. When the power-hungry king heard this, "he was frightened and all of Jerusalem with him." This just wasn't how things were done. This really throws a wrench in the tradition. This is not the process nor procedure that is to be followed. Just as the cousin of my friend didn't follow the process and tradition of love, marriage, baby carriage. There was indeed some frightened talk. But new life washed that away.
We know Christmas. We need the yearly reminder of its power. How it's with us each and every day of the year. We often forget. We often fall into tradition and process and procedure. We focus on the tasks at hand: the daily grind, laundry, the to-do list, taxes, bills, inflation.
Yet at Christmas the world is a better place. Love seeps into every heart. People pay for one another's coffee. Strangers pay the grocery bill for others. CEOs are visited by ghosts and inspired to be more generous to their workers. In the darkest part of the year, we string up lights to shine into the night to guide one another home. Art and beauty break forth in the bleak mid-winter. Holiday displays we can drive around looking at in our toasty warm cars. Good traditions of neighborliness and hospitality.
We bring children into the world for such things. For hope, peace, joy, and love. The greatest of these is love. Let us not think "Christmas belongs only to the children" the Rev. Peter Marshall wrote, "for the older you get, the more [Christmas] means. Christmas, though forever young, grows old along with us."[1]
Now you might not be in the Christmas spirit just yet. You might be feeling weary. Well, that's the Christmas spirit! Two weary travelers looking for room at the inn. Not sure if God will ever really show up? That's the Christmas spirit. You're in the book of Lamentations. Wondering if we'll ever have a good leader or if the powerful will ever serve the common good? That's the Christmas spirit. You're keeping company with the prophets. Longing? That's the Christmas spirit. Longing for a life beyond laundry, taxes, and death. That's the Christmas spirit.
We gather here tonight to hear the story. To remind us that we are living this story not just today through our traditions and decorated trees and houses. We are living this story 365 days out of the year. Tonight, we read the story again and remind ourselves of its power.
How the hopes and fears of all the years are met in a babe born to an unwed couple. How God is with us. The incarnation is here! Can you see that in yourself? How you are the hopes and dreams of our ancestors made manifest. Those who have been in the room and those among us who have given birth know that it's not necessarily a happy occasion, but it can be a joyful one. Happiness is fleeting. Joy is deeper. It can get its arms around all the emotions and circumstance that comes with bringing life into the world.
This is how love is passed down. Like the great act of liturgical art of turning off the lights and lighting candles and singing "Silent Night," a 204-year-old German hymn. This is what we live for: Acts of beauty. Belonging. Moments when the soul feels its worth. Feel your worth tonight. You are beloved children of God, and we have work to do. We must keep Christmas and welcome and join with the marginalized, outcast, poor, and foreigner. For God is here with us all. Across all the lines and labels that are used to separate us. Grace and peace are within and among us even now.
Tonight, and for the twelve days of Christmas, the weary world rejoices. We can keep sabbath. Rest and reflect. Then the true work of Christmas begins: reconciling, crossing and erasing divisions, and being the beloved community of God. Merry Christmas, church. Let us keep Christmas all year through feeding the poor, sheltering the unhoused, being the voice crying out in the wilderness that justice might roll, visiting the sick and the prisoner. Believe the good news that we are not human doings, but human beings and this life… this life is much more than laundry, taxes, and death. Thanks be to God. Amen.
Works Cited
[1] Let us Keep Christmas. Page XX. A gift from Hope Wilder's family. A sermon from 1952.
There are also two StarWars references and a bakers dozen Christmas songs in here. Spot them if you care to 😉 Merry Christmas, -Pastor Luke