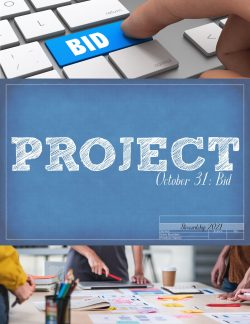 October 31, 2021
This is our third sermon in our series PROJECT. We're covering the Colors of Communication which was developed by the Herrmann Brain Dominance. We have covered Yellow communication which are the idea people. We have covered the Green people who are the process people.
Today we'll talk about blue communication. Blue communication uses an economy of words. There is logic, order, and data. Blue Communicators exist to analyze and edit for efficiency. Blues are non-personal.
Blues can see the big picture that the Yellows are painting. They also see the need for the structure and process of the Greens. What Blues do is give you the quickest possible way to get to the goal. Listen to me very closely here. If yellows give us the idea to go to Wadsworth, but the green process gets us to Wellington, blues are the corrective to get the process to the end goal.
Critical analysis and measurable outcomes are the gifts Blues can give. They have no time to monkey around with things. They won't ever take the scenic route. The journey is not the goal, it's the destination. Like the man in the parable Jesus tells today. He was planning and his life was over before he could accomplish what he wanted to. His goals were around himself, not for the wider community. That's why we take an impersonal logical approach. We don't have times for how we might feel about it.
Here's how you can tell if you might be a blue: If you think you can do all the colors, then you're a blue. Blues are all about competence. We know that if we put our mind to it, we can accomplish anything because we're competent. The best way to compliment us is to acknowledge our skill. 'Hey pastor, nice sermon' Oh really…. What part?
What frustrates Blue Communicators are things like inarticulate communication that is too touchy-feely or unclear. Excessive chatter. Being unable to challenge or dig into the facts of any given situation. If there's a lack of clarity or no tangible goal to work toward.
Blues know that for every problem there is a solution. For problems can be fixed. If it doesn't have a solution, then it's a condition. Conditions can be treated, but not solved. We are in the condition of being the church. We are trying to become more like Christ and unleash little Christs into the world to heal it and bend it toward blessing. To help us see where the state of the church is, I invite forward our financial director Jeff Miller to present data and goals.
I like data. Data tells us a story. Seeing Jeff's goals and data, I thought to reflect on my own stats in the first 4 years. My first focus upon coming here in April 2017 was to grow social media. Our Facebook followers that day were 166. As of last Thursday we have 792. More people are hearing about all the ways we're being the church here in Medina. How we're welcoming, loving, and serving. We're radically accepting, boldly serving, and a warm, loving community.
To put the impact of this growth in numbers, we have done 3 fundraisers on Facebook. The first was the Costa Rica Mission Trip in December 2018. We wanted to raise $750, and we exceeded it by raising $1,215.
Our next Facebook fundraiser was the Rev. in the Rafters in October 2019. The digital goal was $3,725 and we raised $3,850.
Last December, we had the Shepherd's Fund Fundraiser in December of 2020. We wanted to raise $500 and we raised $1,320. That's 264% of the goal! That's the power of social media.
It's where my generation and younger is. We haven't taken away nor will we the traditional methods of paper, check, envelope, but we've added these powerful avenues to giving. Another tool in our bag.
It has helped us gain 128 members since April of 2017. I have performed 47 funerals and 20 weddings.
I have completed my formal doctoral studies, designed and ran my experiment, and I'm 11,395 words into my thesis. I need around 40,000. Slowly but surely.
We are a vibrant community. In the past 4 years, we have put many miles on the road. We have fed our community through our meals and financial support of CUPS Café and the Garfield families. We now have the opportunity to feed 8 families on a biweekly basis with the revamped Garfield program.  We have done great work. There is more to do. No use storing it up, let's put our time, talent, and treasure to work to bend the world toward blessing.
Churches get addicted to process. They throw out the yellow in favor of the green. Blues aren't afraid to cut programs if they detract from the mission. The man in today's parable is a warning to churches. A friend of mine recently began his ministry at a church. He is part time. On his first day there, his council bragged they had a million-dollar endowment. Here he is working part time for a congregation of 40, all aged 60 and older, and they're talking about their rainy day fund. It has been raining for decades! You fools. Don't you know that your lives are being demanded from you by God? What have you been doing?! Use those funds to pay a pastor, start programs that will benefit your community! What benefit is it to God in storing up while your community dies around you?
Let's not do that. Let's do the opposite. Thanks be to our God. Amen.