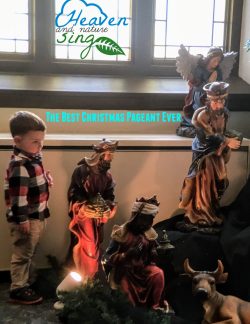 December 12, 2021
A version of this sermon was preached at 8:15 and 9 services. The amazing Children's Pageant was at the 10:30 and can be found here.
Salvation is a well you can draw from.
That's a lovely image. When the world leaves us parched. When negativity rears its head in the office, in the HOA, in the headlines… when we are struck and thirsting for something other than the bitter taste this thing we're facing has left us with… We have a well. And we can go to that well with joy.
In his Introduction to Joy, Rob Bell states that "If you want joy, lower the bar."[1]
I love that video because it's largely just going through all the photos Rob has taken with his phone. There's a picture of a guy on the beach, juggling, in short shorts, no shirt, and black socks sandals. It's a bizarre photo when you think about the choices that guy made. That brings Rob joy.
Or how there's a car parked in the driveway a few doors down from him. There's moss growing on the tires. There's lichen on the windows. This car hasn't moved in at least a decade. But now it holds a sort of beauty. The fading colors mixed with the green of the moss, mixed with the surrounding landscape. There's a beauty there that brings Rob joy.
If you want joy, lower the bar. God has placed interesting things and neighbors all around us. Our salvation is hidden in plain sight all around. If you want to see it, just lower your expectations. If we walk around with our hand out asking for an apple and someone gives us lemons… it would be a mistake to throw the lemon away. Sure, it isn't want we expected, but it might be what we needed. We are the most adaptive species on the planet. The world has everything we need in it. From the trees, we make our houses. From the metal ore in the ground, we make all sorts of things like cars, airplanes, and air conditioners. We've developed the phone and the computer and put them together with a smart phone. It's not maybe what the inventors set out to do, but they were able to lower the bar and take joy in the work.
The Israelites weren't looking to be conquered by Babylon. Yet here they are in Exile. And deep in that exile, when all seems hopeless…. The prophet Isaiah speaks these words of hope.
Do the people want to be there? No. But the Prophet states, circumstances aren't in charge. Circumstances aren't your salvation. Your salvation is God. Surely God is my salvation. I shall trust and not be afraid. And that salvation does not depend on your context or your latest emotion, it is a well that never runs out.
Salvation is not swayed, it is freely offered at all times. God is unchanging in this. Being unchanging within swirling emotions is a psychological term coined called Differentiation.  Edwin Friedman states that someone who is differentiated is someone who has clarity about his or her own life goals, and, therefore, someone who is less likely to become lost in the anxious emotional processes swirling about…. is someone who can separate while still remaining connected, and therefore can maintain a modifying, non-anxious, and sometimes challenging presence.
The principles of being differentiated is that:
You keep your function and don't let the crisis become the axis around which your world revolves.
Develop a support system outside of the work system such as professional helpers, family and friends.
Stay focused on long-term goals
Practice deep breathing, prayer, or meditation
Listen to your body
Avoid gossip
Loosen up through humor
Ask new questions to find new information[2]
This is what the prophet is doing: while everyone else's world is revolving around the crisis, there is a well of salvation. With joy, the people of God can draw from that well.
That is how we got the song Joy to the World! If the two authors had listened to the crisis that surrounded them, they wouldn't have produced this anthem of joy!
The first author of Joy to The World was Isaac Watts, both in 1674. Watts, according to Ace Collins, had a rebellious nature that questioned everything and was never content with the status quo.[3] Watts complained that the standards sung in his church were a drag, so his father said, "You don't like it, write new songs."
This is a response that all good fathers seem to do. "I'm bored." And the father response, "Hi bored! I'm dad." Or "I'm hungry!" "Hi Hungry, I'm dad!" Pretty much saying, "You are responsible for solving your problems. Go find a solution." These dad jokes are displays of differentiation.
"I don't like the Church hymns we sing." "Well, go write new ones!" Young Isaac Watts did. Yet no one wanted these new songs and even went so far as to call him a heretic or a tool of the devil. Nevertheless, he persisted. It was while studying Psalm 98 that Watts was inspired to write his most famous song. "Make a joyful noise to the Lord, all the earth: make a loud noise, and rejoice, and sing praise." He penned a four-stanza poem called "Joy to the World" set in a common meter and was usually sung to the tune of "Come Thou Fount of Every Blessing."[4]
Watts continued in his musical career and penned such classics as "We are Marching to Zion," When I survey the Wondrous Cross," "At the Cross," and "This is the Day the Lord has Made" which would slowly be accepted by British Christians but would inspire Charles Wesley and John Newton to compose songs based on their own personal experiences.
Watts not only gave us the words to a great song but began a revolution in modern Christian musical thinking.[5]
In 1836, Lowell Mason, a mover and shaker in New England music circles was stirring things up, much like Watt before him. He was constantly battling the establishment with his own fresh ideas about Christian hymns. Mason was inspired by two songs from Handel's Messiah: "Life Up Your Head" and Comfort Ye." When he was finished, he had something brand new. An exuberant ode he called "Antioch" after the Syrian city that was the point of departure for Paul's missionary journeys.
Three years from writing that tune, Mason linked Watt's Joy to the World and the rest is history! The song was a hit. Yet it wasn't a Christmas song. Not until Elise Stevenson released a Christmas record with Joy to the World on it which landed at #5 on the charts. It would also chart with Three Dog Night.
This song was a well of joy that was drawn from to remind folk of what God has done for us. It was written by Watt, a revolutionary at the time. The tune comes to us from Mason, and reminded us again of the well of salvation. And today, we hear it everywhere!
May this song help you differentiate. While everyone else is losing their mind. While we're facing down COVID part 3, I didn't like the first two movies, but some people do, okay whatever, let this song remind you to prepare him room. To listen to the songs employ… while fields and floods, rocks, hills and plains repeat the sounding joy.
For heaven and nature are singing. Especially at this time of year. The divine is about to be birthed into the world. If you want joy, lower the bar. It's all around you. It's the Christmas lights. I love driving around and seeing folk get creative.
There is a house in the area that just goes all out… That gives me joy. Yet the neighbors right next door just have a yard sign and a spot light that says, "Ditto." I laugh just thinking about it. "Ditto." Amen! That's joy.
Or the house that just has one strand of lights and a wood cut out of the Grinch stealing the lights off the house. Cracks me up! Joy is all around us in this season. Just take a drive around.
There is a well of salvation that is deep and will never run out. It's been there since the time of Jesus' favorite Prophet, the one he quotes most of all: Isaiah. The one who says, "Emmanuel." God with us. Sing to the Lord, for he has done glorious things;
let this be known to all the world.
Shout aloud and sing for joy, people of Zion,
for great is the Holy One of Israel among you.
Works Cited
[1] Watch the whole video here: https://youtu.be/sA7LmEn3xyc I cannot recommend this highly enough!
[2] Edwin Friedman, Failure of Nerve: Leadership in the Age of the Quick Fix. Page 259-260.
[3] Ace Collins, Stories Behind the Best Loved Songs of Christmas, Page 110-112
[4] Ace Collins, Stories Behind the Best Loved Songs of Christmas, Page 113
[5] Ace Collins, Stories Behind the Best Loved Songs of Christmas, Page 114