You See The Trouble We're In
October 3, 2021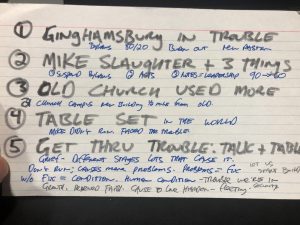 Pastor Luke preached from these notes, please check the video for the full sermon. The idea is: Ginghamsburg United Methodist Church was in trouble. People were burning out. Bylaws built for a much larger church and the 90 souls there were meeting 4 times a week plus Sunday. A new pastor, Mike Slaughter came in. He thought he'd be in some urban church, not the small, family farm church of Ginghamsburg. Mike decided to do three things:
Suspend the bylaws: Burning people out, doing too much busy work.
Preach on the Book of Acts: get a vision of how the early church worked
and invest in those who were taking notes: those would be the leaders who were all in and ready to build.
After doing this, he grew the church from 90 to 60. Grew because sometimes to grow you have to prune. With those 60 people, he grew the church into a multi-campus, 1,000+ member church. They built a new church a half mile down the road from the old. What happened to the old farm chapel church? They tore out the pews and use it for a community room. It is used every night by church groups, community groups, and recovery groups. And they have a rotating selection of historical pictures to remind themselves of the great cloud of witnesses that surround them.
The Rev. Mike Slaughter stated, "You can't tell me that those ancestors would be mad with what we're doing. Nor could you tell me that they saw what would happen, because I sure didn't! Eye has not seen nor ear has heard nor human imagination envisioned what God has prepared for those in Christ Jesus."
Mike never reinstated the bylaws. Nor was he ever moved. He was there for 30 years.
We can help build a table that has been set in the world. Sometimes we'll have to let go. Let grief teach us the wisdom that afterwards we can reach out and talk to others who are going through something similar. And that can help forge community.