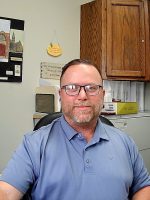 Jeffrey T. Miller (Jeff) has officially joined the UCC Office Team as our new Director of Finance. Jeff & his family Melissa (wife), Olivia, Addisyn and Kaelyn (daughters) began attending UCC Medina in Spring 2020, in search of a new church. Their 3 daughters all attended Hobby Horse Preschool.
Jeff and his family are residents of Medina, moving from Columbus, Ohio, where he graduated from Franklin University with a Bachelor of Science in Financial Management. Jeff began his career in Finance at the State of Ohio Treasury Department, as a fiduciary overseeing all State of Ohio Employee Pension funds, roughly $128 billion. Jeff spent 10-years in the Financial segment, prior to taking on the role of Director of Marketing for Damon's Grill and then Buffalo Wild Wings. Jeff was a key-leader in helping Buffalo Wild Wings grow from 240 locations, to 1,200 in just 7 years. Seeking less business travel after the birth of their 1st daughter, Jeff & Melissa decided to become entrepreneurs and renovated the former Whitey's Army Navy store, transforming the space into a NY Style Pizzeria – Courthouse Pizzeria.
Away from his business and new role with UCC, he enjoys spending time with his family, boating, bass fishing and "training" their yellow lab (Ginger).